Description
Description
PRINT HARD PLASTIC, HIGH DEFINITION PARTS FAST FOR ALL YOUR RAPID PROTOTYPING AND PRODUCTION NEEDS.
The ProJet® 3510 HD and HDPlus print precision, durable plastic parts ideal for functional testing, design communication, rapid manufacturing, rapid tooling and more.
With a choice in materials and selectable print resolutions these office friendly, easy to use 3D Printers are packed with features that help you maximize your return on investment (ROI).
The ProJet® 3510 HDPlus features a 60% expanded high definition build envelope and advanced print detail output. A new 16 micron print resolution delivers exceptional hard plastic parts with unmatched micro-detail and surface quality.
Build Material
VisiJet® M3 Black
VisiJet® M3 Crystal
VisiJet® M3 Navy
VisiJet® M3 Proplast
VisiJet® M3 Techplast
VisiJet® M3-X
---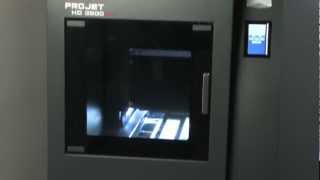 ProJet® 3500 Series