Description
Description
The sPro™ 60 HD prints durable, high-definition plastic parts from the broadest range of available materials.
This state-of-the-art system uses digital scans to masterfully and rapidly manufacture your design's specifications.
Build Material
CastForm™ PS
DuraForm® EX Black
DuraForm® EX Natural
DuraForm® Flex
DuraForm® FR 100
DuraForm® GF
DuraForm® HST Composite
DuraForm® PA
DuraForm® ProX® GF is a glass-filled polyamide (Nylon) material formulated for added stiffness and temperature resistance. For parts that will undergo thermal stress or those that require high rigidity—like aircraft and automotive parts, complex housings and enclosures—DuraForm® ProX® GF is the go-to material.
DuraForm® ProX® AF+ material is an alloy-filled polyamide (Nylon) with a realistic cast-metal appearance, extreme tensile strength and high heat deflection properties. This material is perfect for manifolds and similar under-hood automotive models in addition to jigs and fixtures—any end-use or working prototypes that simulate casted aluminum components requiring high force loading.
DuraForm® ProX® EX, a Nylon 11 material that provides exceptional impact strength, increased durability and remarkable flexibility. Applications with snap-fit designs, thin-walled parts and other fine-featured models are at their most robust in DuraForm® ProX® EX.
The ProX® 500 Plus will be available in early 2015.
---
SLS Process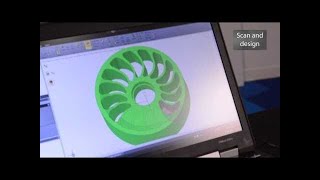 Specialized Solutions